Country
Wales
Closest major city
Liverpool and Manchester in the UK are close to Bangor.
How do I get there?
Make your way to Manchester, via airport or train, and then travel West to Bangor via the M56. It is about 100 miles.
Founded
Bangor is the oldest city in Wales, and dates back to the 6th century AD.
Best time to visit
Winters in December hits an average of 7 degrees Celsius, and summers clock in at a non-beach going 17 degrees. Never met a surfer from Bangor before.
What makes Bangor special?
(Disclaimer: Upon doing a bit of research on Bangor, it does seem as if the city has a bit of a tainted reputation. For example, it is the first city in the UK to institute a curfew for children under the age of 16 that should be accompanied by adults after a certain hour in certain areas. Very interesting indeed. Read this article for more information. But to be fair, show me a city that does not have some form of duality linked to its reputation. I choose to see the positive side.)
So to give some context. This has been an absolute roller-coaster of a year. New job(s), extra human in the house, and a whole lot of 2AM mornings thanks to the aforementioned two factors.
Stemming from the above, somehow, the decision was made to do a UK White Christmas. Not yet sure how this happened, but the one day it was a Southern Cape holiday, and the next day plane tickets were booked for the United Kingdom. I resumed to put my head down on work matters, and now finally (a couple of days before the trip) I get to swim in the building excitement of the mini-adventure laying ahead.
Part of the trip includes a couple of days in Edinburgh, which makes my blogpost of 2016 all the more relevant and exciting. First time I get to tag my own hyperlink. My brother-in-law and I will be road-tripping from the West Coast of the UK to the East Coast in making our way to Edinburgh – and my initial plan for this blogpost was to profile one of the towns on our road-trip. But the routes are not confirmed yet. So will do that once back on home soil.
That did leave a bit of a question mark as to which town to write about, since I'm not that keen on writing about Manchester or Liverpool. They are not the underdog-towns that I like to research and dive into. I typically look for a place off the main routes – which needs the tourist to keep the lights on in the non-peak season.
And then Bangor just jumped out at me.
Reason is simple and complex. When I was 19 (and on my working holiday Visa in the UK), I was invited with a couple of friends to go visit Dublin over Christmas. My naive bucket-list for the UK included the following places:
Stonehenge
White Cliffs of Dover
Greenwich timeline museum
London Tube system
Buckingham palace and Big Ben
Guinness brewery in Dublin
I'm fortunate to say that I visited all of the above, and them some. Don't ask my why a kid from Bellville would have those 6 things on his list. Other 19-year old teenagers went to raves and lost bits of their teeth while triple-dropping ecstacy.  My day was made during an insane 50-hour roadtrip to Wiltshire to see stones piled on-top of each other.
Back to Bangor. So I get the invite for Dublin, accept, bit of planning follows and off we go. First stop London, then Milton Keynes for a night, then train to Holyhead, ferry to Dublin, and couple of days there, and then the return trip back to normality.
To say that I was a bit out of my skin, would be putting it mildly. I watched the train-window like a TV-screen. Trying to drink the sights in, and remember the hues of green, the rolling hills, the mountains in Wales, and the coastline. But a special moment for me happened when we started to approach the end of our UK leg of the trip, near Holyhead. I remember being mid-conversation, and when I looked out of the window to my left I saw the town of Bangor against the backdrop of their mountain range. The image burned into my brain. The specific scene was probably not more than 30 seconds, but somehow here I sit nearly two decades later and I can still recall it.
It felt surreal. On the right hand side of the train was coastline, and on the left hand side was the city of Bangor, with all it had to offer sloping upwards into a lush green mountain. A kind of wet green, made to look even more wet by the silver of the clouds and the age of the buildings.
The sadness of knowing that I might never retrace my footsteps caused me to try and remember everything. Coming from South Africa, travelling is very expensive and you will likely not visit a place twice given all the other beauty there is to go visit in the world. And also, we were on a train, limited to a rail and the world stopped at the end of where the eye could see – and we couldn't just get off and explore. The ferry tickets were booked and waiting for us.
Somehow since then the world twisted and turned, life happened, and here I am going to a place which makes a trip to Bangor possible. Which makes the little kid in me explode with excitement since I get to add some more colour to a memory which is fading a little.
Apart from my view out of the window of the train in December 2001, what makes Bangor special? Good question.
It is old.
Not just a little bit old. It dates back from 6AD, which makes it the oldest city in Wales. Strangely enough, it is one of only 6 places in Wales classed as a city – and it has the 25th largest urban area by metric of population. Not that that says much, since only about 13,000 people live here, of which an additional 10,000 are students of the University of Bangor.
A couple of photos of Bangor:
The above clock-tower stems from 1887, and is located in the middle of the city.
The above photo is from an article on the changing face of the traditional concept of the UK "High Street". It is a very interesting topic, and the chart below (also from the article) provides a summary of the commercial winners and the losers in the battle for floor-space survival in modern times.
Another attraction to this small city is the Cathedral. Found a nice quote (from this website) on the Bangor cathedral, which states:
Bangor is an ancient city, and as such has its own Cathedral, dedicated to St Deiniol. It was founded by him as a monastery in 525 AD, however this building was lost and none of it survives today. It was not until somewhere between 1120 and 1139 when the present building was constructed. It has two towers, one at the front known as the West Tower and one at the back called the Central Tower.

During an invasion of Gwynedd in 1211 by King John from England, the cathedral was destroyed and restored again later in the 13th century only for it to be badly damaged in yet another invasion by King Edward I of England in 1282, and again it was rebuilt, before an extensive reconstruction during the 15th century.
"The main attraction is the garden surrounding the cathedral, which has almost every tree that has been written about in verses of the Bible. It also houses one of the finest and largest pipe organ across Wales." – From this source.
2. It is a place of two very long things
In addition to the photos above, apparently, the Bangor High-street is the longest of its kind not just in Wales, but in the whole of the UK.
From this website:
Bangor has the longest high street in Wales, with a mix of national chain stores and smaller local businesses. Most of the University buildings and Halls are within walking distance of the city centre.
The pier in Bangor seems to have more lives than a dog in China. At 1,500 feet (460 m) in length, it is the second-longest pier in Wales, and the ninth longest in the British Isles.
It seen some proper drama, and I'd love to quote extensively from wikipedia, but I won't. If piers are your thing, then feel free to click here. Suffice to say, I'll be paying the 50 pence cover charge on walking on this pier quite soon.
(Remark: The UK has a National Piers Society. The members of this group are extremely passionate about piers, and I found this website with information from as recently as August 2017 – saying that the Pier in Bangor is in need of 1 million pounds for restoration. That is a lot of 50 pence tickets…. The first photo below is from their website.)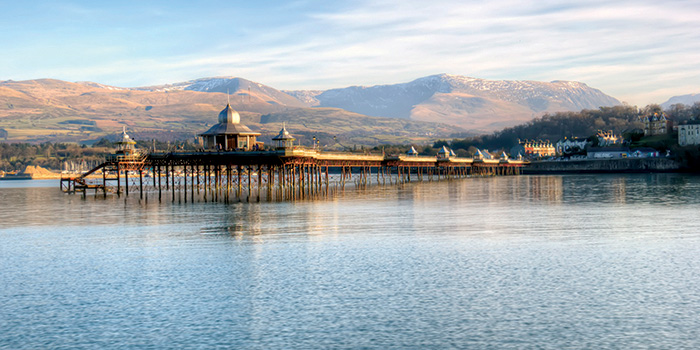 Despite the long High Street and the Pier, a bit of research shows that most of the attractions in Bangor is within walking distance from the Central Business District.
3. The Bangor University
The city has a university with a fair amount of tradition, given that it stems from 1884 and is one of the top 20 Universities in the United Kingdom.
The University is a focal point of the city, with the associated buildings visible from several vantage points in the city.
Below is a photo of the Bangor Business School doing its business.
Conclusion
It's strange how we all want to live in city. But after a couple of months of being faced with traffic, constant noise, an overload of people who are all trying their best to be unique and interesting and memorable – we (perhaps just us introverts and some ambiverts) end up in reverting to a weekend break-away to escape the exact reasons why people move to a city. The irony is often invisible. And I suspect a trip to a place such as rural Wales and Scotland will just add to the notion that I already have to suppress: that we were never made for city living. Despite our best efforts to make cities sustainable and green and pleasant and livable, nature will always find a way to tell us what is really needed to escape the madness that comes with groups of people living on-top of each other fighting for breathing space and parking bays.
I hold the view that the ultimate luxury of the future will be the ability to disconnect / disengage at will, and still be socially accepted and be able to survive financially. And this will mean more visits by people to places like Bangor. Where the Bangor mountains cast a shadow on the High Street that is permanent between November to March for some areas of the long High Street, because the citizens choose to live close to nature. The same nature urban areas try to replicate to let sanity prevail and to attract investors. …